Aviation Diplomas at AUST
We offer a University Diploma from AUST and an Official Pilot's License from Lebanese Directorate of civil aviation. Our Aviation Diplomas' students will be attending the Prerequisite Courses at AUST and Flight training at Beirut Wings.
We Proudly announce that Pilot Licenses Issued by the Lebanese Civil Aviation Authority at Beirut Wings are officially accredited and in compliance with Iraq Civil Aviation Authorities Rules and Regulations. No Validations or Conversions are required in Iraq for all Beirut Wings Pilot Licenses.
The goal of the U.S. Airline Pilot Pathway Program is to is to train students to become future professional airline pilots, armed with the skills, training and experience they require for long and successful careers. This is achieved through adequate preparation of students for success at the airlines from the first moment they step foot on campus, from the program curriculum and instruction, to company culture, dispatch policies and more. Within the Program, students are offered career-focused pilot training program to get them airline ready and eligible as quickly as possible. No prior aviation experience is necessary to join the program, and the training timeline to be ready for the domestic U.S. commercial airlines is as little as 30 months.
This Pathway Program will take students through all their required training starting in Lebanon at Beirut Wings and completing training in the U.S. at AeroGuard. Upon completion of this training stage, they will have a Guaranteed Final Interview with AeroGuard to become an employee as a Certified Flight Instructor. During this stage of the Program, they will then work as a salaried Flight Instructor, with benefits, earning the flight experience required to be eligible to move on to commercial airlines. Once eligible, they will then have a guaranteed Final Interview with our airline partners, offering a complete path to the airlines in as little as 30 months.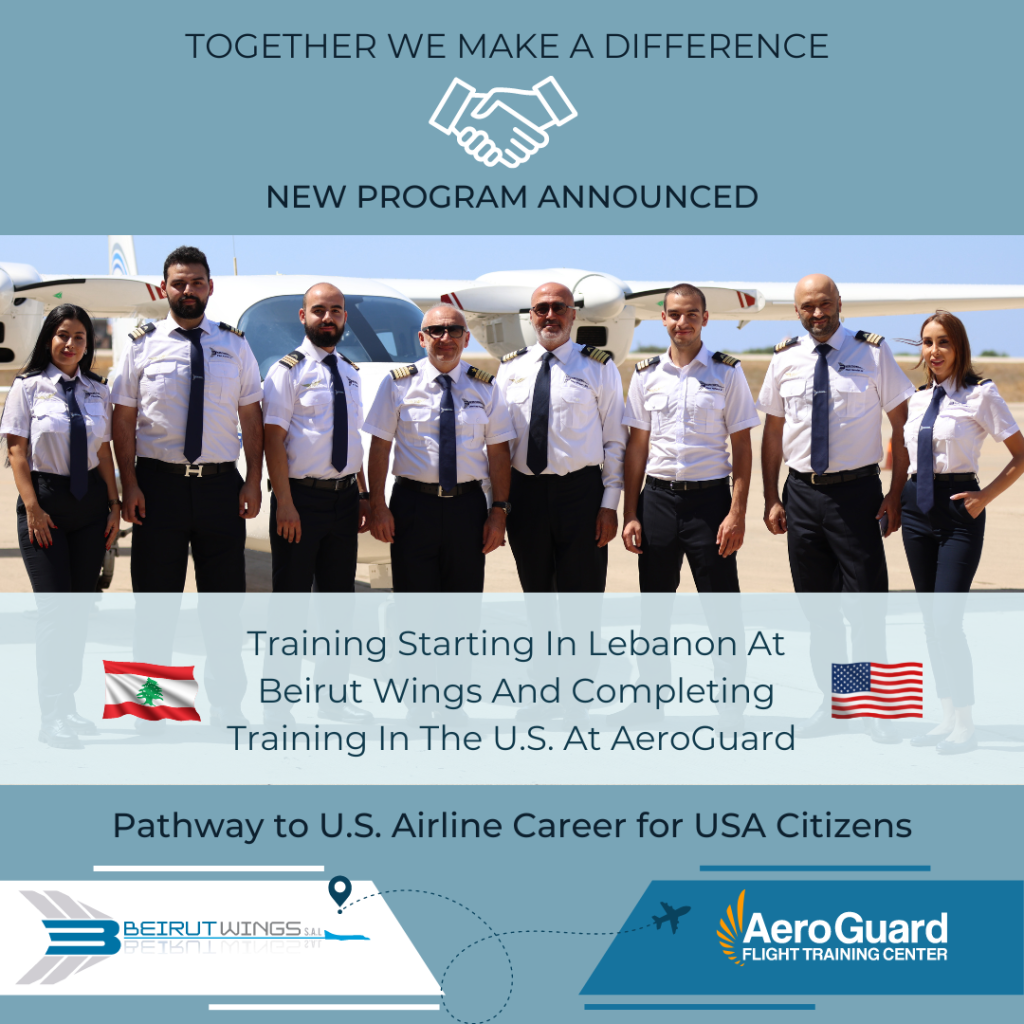 Pilot Training: 6 Months
This phase starts in Beirut and will be the introduction to flight. During this 6 month phase, you will receive your Private Pilot License (PPL) and additional training up to 155 flight hours. The focus of this training is to establish core knowledge and skills to set the foundation of your entire career. You will also complete all of the requisite theory courses to qualify for your Instrument Rating (IR) and Commercial Pilot License (CPL).
All required flight, simulator, and ground training to meet the course standards.
• Initial exam fees in both Lebanon and the United States.
• Online ground school materials.
• Digital flight planning resources, study publications, operations manuals, and a uniform.
Pilot Training: 7 Months
The second phase will occur in the United States and will include specific flight training to acquire the IR and CPL ratings. Once acquired, you will complete additional training to become a Certified Flight Instructor (CFI). This marks the end of your time as a student. This phase should last roughly 7 months.
• Any fees related to additional attempts at flight or theory tests if the initial exam is failed.
• Retraining flight hours exceeding the allotted hours in any course of the program.
• Transportation between Lebanon and USA.
• Housing & iPad.
1. Successfully complete Aviation English assessment
2. Successfully complete Pilot Aptitude assessment
3. Must have a high school diploma
4. Obtain an aviation Medical Certificate
5. Current U.S. Passport
6. Minimum age: 18
Tuition is estimated to be USD $95,000
Payment Schedule:
At Enrollment: USD $41,000 – Beirut Wings
Completion of PPL: USD $28,500 – AeroGuard
Transition to USA: USD $19,000 – AeroGuard
Start of CFI training: USD $6,500 – AeroGuard
Flight Instructor: 14 – 18 Months
After completing Phases 1 & 2 of the Program, students will now graduate as fully qualified Commercial Pilots, as well as fully rated Flight Instructors with their CFI, CFII and MEI certifications, opening a range of employment opportunities. One of these opportunities will be to become an AeroGuard employee working as a Flight Instructor for us and training the next generation of students. In this stage of training, pilots will be building the experience and flight hours required to be eligible for a career at the airlines – typically 1500 hours of flight time. AeroGuard Certified Flight Instructors (CFI) are paid as full time employees with benefits including:
• Paid Vacation, Holidays & Sick Time
• Medical and Dental Insurance
• 401K with Company Match
In the flight training industry, it is typical for flight instructors to only be paid by the flight hour. However, this does not align with AeroGuard's focus on high-quality instruction which is why AeroGuard instructors are also compensated for their time on the ground developing students with a firm understanding of theory and knowledge taught outside the cockpit. Due to the accelerated nature of the U.S Airline Pilot Pathway Program, instructors can expect to complete Phase 2 and be eligible for the airlines after 14-18 months, building their total flight time to 1,500 hours.