Fear of flying, or aerophobia, as it can be termed, is extremely common in adults. As a result, some people have never been on a plane in their lives because they can't handle it.
Certainly, flying is safer than driving a car on the road.
Beirut Wings 'Flying Without Fear' program has been the leading course in the industry helping people, just like you, to overcome their fear of flying. Men, women with fears ranging from mild anxiety to complete terror have all been helped by us and are now flying.
Conquer your fear of flying get the most effective help available anywhere. Control fear, anxiety, claustrophobia, and panic automatically when you fly, even if difficulty is extreme. "Other programs only help mild cases. That's why we set up 'Flying Without Fear'.
According to surveys by the International Civil Aviation Organization (ICAO), about 15 to 25 percent of people suffer from fear of flying, and about 50 percent feel uneasy when they fly. The anxiety can begin some weeks before the departure date.
This course has been designed to help you conquer your fears of flying. Our aim is for you to take that trip and actually enjoy it. Fear of flying is a phobia that many never, ever face. Now that you are here, we are the best people to help you to get rid of your fear.
The 'Flying Without Fear' is a one day course divided into three stages:
| | |
| --- | --- |
| STAGE I | Presentation – We will deal with any misconceptions that you may have about flying and give you proven techniques to be able to delete those old mind patterns that you have running in your head. |
| STAGE II | Meeting with our aviation expert therapist (In Group and one on one) |
| STAGE III | You will go on what we call an "Experience Flight". |
During this section of the course, one of Beirut Wings' highly experienced Captains will answer all of your questions relating to the technical side of aviation, including; what are all those funny noises? What does "cross check" mean? Why do the wings seem to change shape for landing?
He'll also explain, for instance, why turbulence is a perfectly normal part of everyday flying and answer any other questions that you might have that are either stopping you from getting on a plane or from relaxing during a flight.
When you start to remove the misconceptions then you start to remove the fear. It's really is as simple as that!
We use proven techniques to help any nervous flyer conquer their fears. As well as curing people who have a fear of flying.
Fear is rational, as it is designed to warn us of any danger, and triggers our natural fight or flight response. As we all learned in biology, this is a completely normal reaction intended to help us avoid dangerous situations. So, contrary to belief, having fear does not make us weak or cowards or broken in any way. We do not need to be ashamed to be frightened of something.
If we use the analogy of a malfunctioning computer, although the hardware itself is not broken there may be a certain piece of software running in the computer that has somehow got corrupted. All you need to do is delete the old corrupted software and replace it with some new software and the computer will once again run perfectly without any glitches.
So in the same way that a computer technician will fix your computer, we will teach you some amazing techniques to help you fix your thoughts so you can replace those negative thoughts with positive ones and in doing so, it will literally change the way you perceive your fear of flying forever.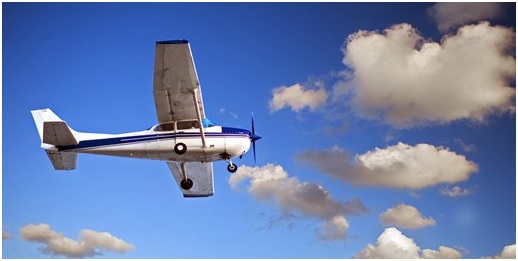 The final step in the process is to go on what we call an "Experience Flight". This is a very special flight with a highly experienced Captain specially trained and fully used to dealing with nervous flyers. He will reassure you every step of the way and make you feel totally relaxed and comfortable during the short flight. The Captain will speak with you regularly during the journey and will make sure you are fully aware of every single aspect of the flight so nothing will take you by surprise.
We have specifically scheduled this flight to be on the same day of the course. This allows you to save time and gives you the ability to practice the techniques you will learn in the previous stages.
The flight itself – on one of Beirut Wings' state-of-the-art Cessna's aircraft – will take off and return from Rafic Hariri Intl airport at Beirut Wings premises where we are holding the course. You will fly around the local area for about 45 minutes before landing back at the same airport. You will then be given a certificate and congratulated for completing the course successfully. Companion flights are also available at 69$ each if you would prefer to have a friend or family member flies with you on the Experience Flight. Contact Beirut Wings Operations for more information.
The day starts with tea and coffee – an excellent opportunity to meet the team. It's also when you realize you're not alone, as you'll meet others who also have a fear of flying. This is followed by a presentation by Beirut Wings pilots. There is strong evidence to suggest that one of the main causes of fear of flying is simple lack of knowledge about how an aircraft flies and operates. So, the pilots give a detailed talk, with the help of slides, explaining the technical side of aviation and its many associated subjects. Amongst other topics, air traffic control, security and turbulence are all covered.
In the afternoon session, one of our aviation expert therapist talks about the psychological aspects of aerophobia (fear of flying), the mechanics of fear, and how best to deal with anxiety and feelings of panic. Lack of control, claustrophobia, fear of tube trains, lifts, heights and fear of falling are the concerns of many nervous passengers. Our therapist demonstrates positive ways of coping with and minimizing these symptoms, and will conduct a relaxation session just prior to the flight.
The day concludes with an actual flight on an aircraft, lasting 45 minutes. Passengers are accompanied by the therapist. During the flight, a pilot gives a running commentary explaining the various phases of the flight and just what is happening. This aspect of the course has been found to be very reassuring and valuable, helping people overcome their fear of flying.
Contents of an Individual Coaching will be conformed according to your personal subject of concerns.
We consider your individual issues and needs in order to best support you in conquering your fear of flying in a professional and safe environment.
We will provide a personal consultation with one of our experienced therapists and guarantee a professional support throughout the entire course of the seminar. An individual anamnestic survey of your fear of flying and potential correlated anxieties will be preceded and hence explicitly addressed. You will have the opportunity to not only understand the concepts of fear formation but also receive research based training for adequate coping strategies.
In addition you will be assisted by an experienced flight captain of Beirut Wings who will provide you with his entire expertise and know-how. He will answer any questions you may have and allow you important insights in technical and logical details of aviation. You will receive basic education in the concepts of flying, background information regarding technology and security as well as an overview of training and check-ups of pilots and crew.
Each Individual Coaching contains self-evidently a round-trip flight with Beirut Wings accompanied by the therapist. With our professional support you can apply the trained coping strategies right away and actively conquer your fear of flying.
Content of the Individual Coaching:
Survey of individual fears and concerns.
Psychological and biological principles of fear formation.
Relaxation and breathing techniques, cognitive reorganization and coping strategies.
Technical concepts of aviation, meteorology, aerodynamics, flight statistics etc.
Aircraft visit, cockpit and cabin.
Accompanied round trip flight.
We offer Individual Coaching in the following languages:
Symptoms of fear of flying
Depending on the extent of their fear, sufferers can have the following symptoms:
Sweaty Palms
Heart palpitation
Short-windedness
Loss of appetite
A sense of nausea
People who fear flying are mainly those who suffer from claustrophobia, fear of contact with other people or fear of heights, or from a general fear of loss of security and control over a situation. These causes have an added effect on the sufferers when they fly, and generate a feeling of being helpless amid a strange environment at a high altitude.
A part of the brain – the amygdala – releases stress hormones if something unfamiliar or unexpected is encountered. These hormones cause anxiety. But, people with a profound sense of security regulate this anxiety automatically. They respond with a sense of curiosity. They look to see what is going on. If they see no obvious danger, they regard it as a false alarm and drop the matter.
Not so for a person who did not develop automatic and unconscious regulation. When stress hormones are released, there is a sense of alarm. They respond with a sense of danger. They look for danger. Worse, they may start imagining it! They can drop the matter only if absolute sure there is no possibility of danger. This makes flying difficult. Many things can be tried, but nothing works as well as training the mind to automatically and unconsciously regulate itself when under stress. This is the training 'Flying Without Fear' provides.